A transportation management system (TMS) is specialized software for planning, executing and optimizing the shipment of goods. Users perform three main tasks on a TMS: Find and compare the rates (prices) and services of carriers available to ship a customer's order, book the shipment, then track its movement to delivery. The broader goals of using a TMS are to improve shipping efficiency, reduce costs, gain real-time supply chain visibility and ensure customer satisfaction.

TMSes are one of the core technologies used in supply chain management (SCM), a discipline sometimes divided into supply chain execution (SCE) and supply chain planning (SCP). They are available as stand-alone software or as modules within enterprise resource planning (ERP) and SCM suites. Typically, a TMS serves both shippers, carriers and other logistics providers. Manufacturers, distributors, e-commerce organizations, wholesalers, retailers and third-party logistics providers (3PLs) are major users of TMS software.
While some TMSes focus on a single mode of transportation, most support multimodal (where at least two of the various modes of transportation — truck, rail, air and sea — are used in a single contract) and intermodal (in which a cargo container is carried by at least two modes of transportation).  
TMSes have gained traction over the past decade as an enabler of global trade and logistics. Gartner, in its March 2019 Magic Quadrant report, predicted the global TMS market will grow at an accelerated rate, reaching $1.94 billion by 2022 and accounting for nearly a third of the SCE market.
How transportation management systems work
Fundamentally, a TMS is a repository of detailed information about carriers, but it is also a transactional and communication system that enables users to plan, execute and track shipments. To do all of those things, it must have strong integration with carrier systems and data sources or some other way to download carrier information. It must also facilitate entry of the customer orders that specify what is to be shipped. Usually, orders come in automatically from ERP or order management systems that are integrated with the TMS. In addition, a TMS will sometimes be integrated with a warehouse management system (WMS) to enable better coordination of the tasks that occur at the interface of warehouses and freight shippers, such as palletization of goods, labor scheduling, yard management, load building and cross-docking.
The three main SCM systems — ERP, WMS and TMS — each have important but mostly distinct roles to play in processing orders. Integration among the three allows them to share certain types of data and standard documents that are necessary for getting the right products to customers on time as efficiently as possible (see the figure, "How supply chain systems process orders").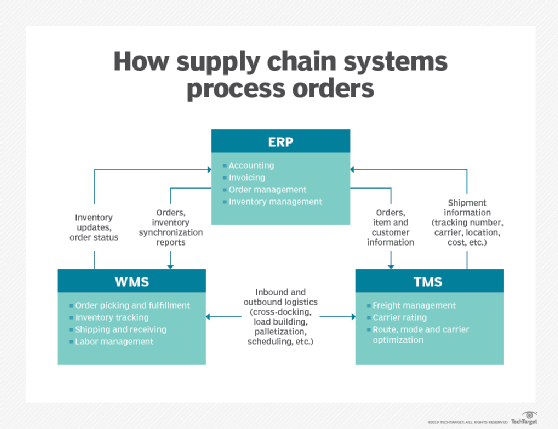 The ERP handles the accounting and most of the invoicing, order management and inventory management. The WMS' role is to help users manage the fulfillment, shipping and receiving tasks in the warehouse or distribution center, such as "picking" goods from shelves for shipment or putting received goods away. Its role in inventory is to track the inventory data that comes in from barcode readers and RFID tags and update the inventory management module in the ERP system to ensure it has the latest information. Synchronizing the inventory data in both places is another important use of the integration link between the ERP and the WMS.
The ERP outputs the order information the TMS needs to prepare and execute shipments. Besides basics like customer name and address, the data stream from ERP also includes detailed item information to ensure the right products are shipped. The TMS returns the shipment details that the ERP needs for its accounting and order management functions, such as the tracking number, carrier name and costs. The shipment information might also go to the customer relationship management (CRM) module so the sales and customer service departments can update the customer on order status.
TMS deployment options
Like most enterprise software systems, TMSes started as on-premises systems but have increasingly been deployed in the cloud either hosted or as SaaS. There are also TMS managed services.
Running in the cloud has obvious advantages in easing connectivity between TMS users, carriers, customers and supply chain partners. Some TMS vendors try to differentiate themselves by offering single-instance multi-tenant SaaS, which they say has cost and integration advantages over single-tenant SaaS and private-cloud options.
In fact, according to Gartner, most of the growth in the TMS market comes from cloud offerings that companies bought to replace on-premises TMS, a trend that is likely to persist. Meanwhile, TMS vendors continue to migrate their products to SaaS, in large part to fend off competition from fast-growing "cloud native" vendors who started with SaaS TMS. The analyst firm predicts the SaaS share of the TMS market will nearly double from 37% in 2017 to 65% in 2022.
Though many organizations nowadays prefer to run TMS in the cloud because of the connectivity advantages and potential savings in IT labor and infrastructure, on-premises deployment is still preferred by some large manufacturing and distribution firms that have stringent security requirements and want day-to-day control of their TMS servers.
Functions of TMS
The functions of a typical TMS can be loosely grouped into the following categories:
A TMS acquires, stores and updates the rates that carriers charge for shipping, often over the internet in real time. Having current rates in one place makes comparisons easier than in the pre-TMS days, when freight managers would have to phone or fax carriers and record rates manually. Instead, relationships with carriers, and the rates negotiated with them, can be largely managed online. The number of carriers in a TMS can reach the tens of thousands.
Other features handle the workflow and paperwork involved in freight management, including load tendering, which provides the details about a load that carriers need to decide whether to bid on it (and serves as a record of what was agreed to), as well as contracts held with individual carriers. Some TMSes also support order management, though that function is more commonly done in ERP or separate order-management software.
A TMS also allows users to execute the major actions of freight management, including booking of shipments with carriers. Real-time visibility into the movement of freight throughout the transportation network makes it possible to track shipments and share that information with customers and suppliers. There are also communication mechanisms for contacting drivers in transit, and GPS features for measuring time and distance.
While most TMS features focus on execution, much of the power of the system comes from the tools it provides for planning and optimizing the shipping process. It provides data and analytics to enable users to choose the carriers and routes most likely to transport goods the fastest and cheapest. Optimization can extend down to the order and load level: Users can, for example, size loads or redirect orders to maximize the user of carrier resources in less-than-truckload (LTL) shipments. They can also plan multileg trips to minimize fuel and labor costs by avoiding empty miles between stops.   
A TMS usually has reporting and analytics features for analyzing carrier performance and other key metrics. It can also export data and reports to the ERP system or a business intelligence platform for analysis.
Transportation and logistics management are inherently complex endeavors that require substantial paperwork for the B2B transactions, regulatory compliance and auditing. Accordingly, a TMS must have sufficient administrative features to support the documentation and financial reporting requirements. Typical features include billing, payment and tools for ensuring accuracy by comparing a carrier's published rates with the amounts in an invoice, for example. Sometimes an automatic payment system is established to minimize handling of invoices. A TMS can also generate a bill of lading, a type of receipt that a shipper or carrier can issue to specify the items in a shipment and the terms of the contract. Bills of lading are also used in customs and insurance.
A TMS must also handle settlement, a more complex process that requires documenting certain freight milestones and metrics before payment can be made, such as proof of delivery, pickup and time in transit. Settlement data is also fodder for the TMS' performance management and optimization processes. TMS users can search settlement data for clues to customer demand and capacity utilization, and to negotiate special pricing for factors such as loading speed and time of day.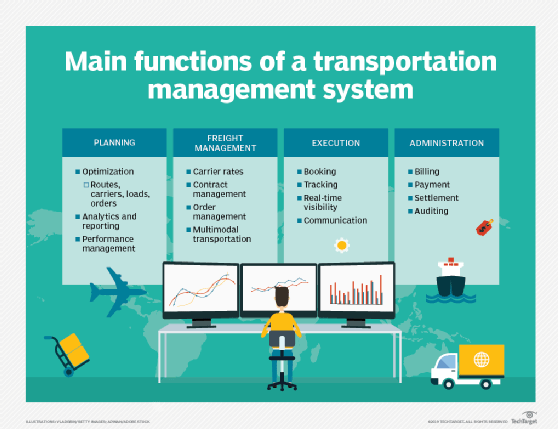 Benefits of TMS 
A transportation management system can benefit companies in numerous ways, including the following:
reduced distribution and warehouse costs through better fleet management, labor and space use and coordination between the transportation and fulfillment functions;
higher customer satisfaction from a more responsive shipping process;
supply chain visibility from the ability to track and monitor the lifecycle of orders and shipments in real time;
improved inventory management and forecasting, thanks to better visibility and accountability in the supply chain network; and
reduced administrative costs and invoicing errors from automating freight payment and auditing processes, thereby minimizing errors and inefficiencies of manual procedures.
TMS software providers
Vendors of TMS software fall into four categories: ERP suites, SCM suites, niche TMS and TMS services.
Microsoft, Oracle and SAP are prominent ERP vendors that offer substantial TMS modules as options in their suites. Most other ERP vendors rely on TMS vendors with which they have integration. Smaller ERP vendors also have distribution modules that handle some TMS tasks but aren't true TMSes.
The makers of SCM suites typically provide everything but the ERP component. Major players include JDA and Manhattan Associates — the two largest SCM vendors, according to Gartner — E2open (Cloud Logistics) and BluJay.
MercuryGate, Kuebix and Alpega Group — with its i-net and Transwide brands — are among the leading niche vendors, competing with 3Gtms, 3T Logistics, C.H. Robinson (Navisphere), Nexus (owned by ERP vendor Infor) and many others.
Several TMS vendors offer managed service versions, among them BluJay, C.H. Robinson, Kuebix and Transplace.