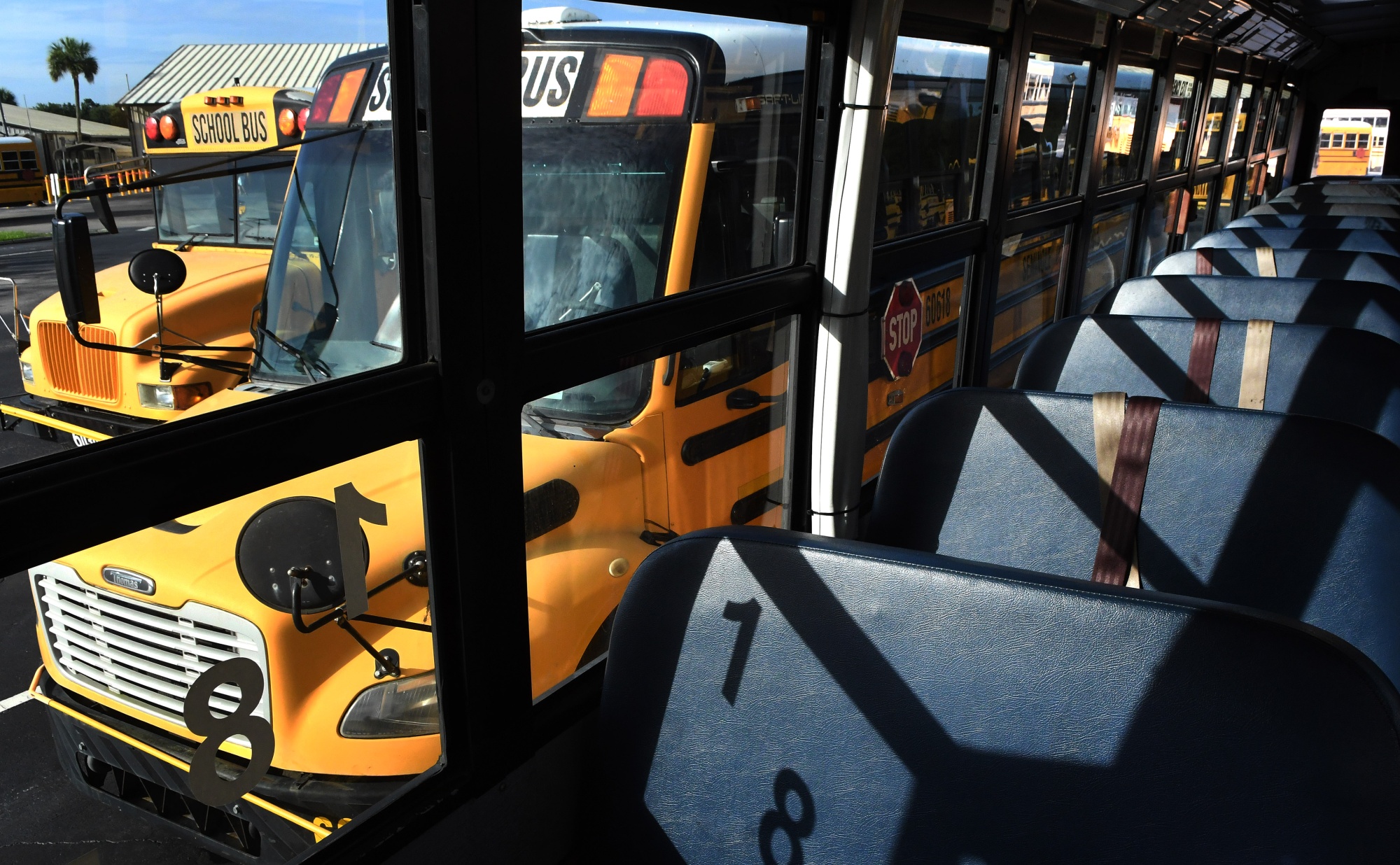 As U.S. schools reopen to debates about outdoor classes and learning pods, one of the most pressing questions on many teachers' and families' minds has not gotten its due: How do we get from home to classroom safely? 
Earlier this summer, on a Zoom meeting for planning in-person classes at my kids' Brooklyn elementary school, that other concern hovered in the background. One teacher spoke of the three trains she has to take each day on her hour-long commute. She depended on her septuagenarian parents for child care, and would need to lean on them more once school started. But with a commute like hers, she said, her voice cracking with emotion, she imagined it was only a matter of time before she'd expose them to the virus.
There was silence, for a moment, but it wasn't long before the meeting refocused on the task at hand, the one which we had a bit more control over: figuring out what happens inside the school building. 
In my city, Mayor Bill de Blasio has encouraged families to simply drive to school, an uninspired suggestion that many parents say is tone deaf in New York City, where most households don't own cars, not to mention a recipe for increased pollution and congestion that could become a logistical and environmental nightmare if widely adopted. 
The issue of school transportation looms large not only in large cities like New York where many kids normally rely on public transit to get to school. All across the U.S., school buses, the nation's largest single form of mass transportation, are expected to operate at 50% capacity or less to allow for social distancing, per CDC guidelines, potentially leaving many kids without seats on the bus.
When transportation is discussed by public officials, it's often as a reason not to do in-person learning at all. Philadelphia district chief of schools Evelyn Nuñez called trying to get kids to and from schools with reduced school bus capacity "challenging if not impossible" before joining several other school districts in scrapping plans for in-person learning until November.  
But what about those of us who are or will make the journey to school at some point during the pandemic? 
Public Transit
For families reliant on taking public transit, it's worth considering the research so far. While fear about crowded public transportation is high, the data about transmission is mixed — and so far, rather encouraging. Studies looking at subway systems in Asia and Europe suggest public transportation is not as likely to spread Covid-19 as many of us fear. 
That research does come with caveats. Riders in Japan and Paris consistently wore masks, followed social distancing recommendations and rode in relative silence, all factors that might limit Covid spread. We don't necessarily know what happens in other contexts, such as when a flood of kids with less predictable behaviors cram into cars, increasing crowds and carrying with them an American resistance to mask-wearing. 
Mike Lydon, a principal at urban planning firm Street Plans, says cities need to get a much better understanding of how safe local public transportation is and, if deemed safe, create messaging around that.
San Francisco has already taken measures to help with the perceived and real risks of public transit. Starting in September, rails that previously zipped underground will dock above ground and connect to shuttles to avoid crowded platforms beneath the streets with poor ventilation. "As we emerge from shelter-in-place, it's imperative that we take the opportunity to improve our rail service so that we can deliver people to and from school and work reliably," a city press release explained.  
The city also created dedicated "emergency" busways, street lanes closed to private cars, to make commute times faster and more robust for essential workers. 
Safer Bike Routes
Reducing crowding on school buses or public buses usually means encouraging some people to take alternate modes of transit. In some global cities, that alternative option is biking. Copenhagen and Amsterdam are widely regarded as the gold standard for kids on bikes, where carting around a gaggle of kids in a cargo bike is already a core part of the transportation system. (In my Brooklyn neighborhood, I've caught glimpses of this in the streets the city recently closed to cars for social distancing, and it's glorious.)
Some cities are expediting bike policy change after Covid-19, such as protected bike lanes in Paris and Bogota. These lanes serve many purposes in a transformed system, and protected lanes have the benefit of providing a safe means for children to ride, or for parents to bike kids to school. Many other cities including New York City already have some protected lanes that families can use for recreation, but they often don't function well as transportation because the lanes are not connected to one another.
Danny Harris, executive director of advocacy group Transportation Alternatives, likens these kinds of bike lane networks to "building a bridge a quarter of a way across the East River, and then stopping it, and saying, 'I'm sure you'll figure out how to get there if you jump off and swim.' We do that with our bike infrastructure," he adds. "We give people an invitation to use them, but we don't follow through so it's not safe or equitable and people do get injured." 
Fixing school commutes is intrinsically linked to these larger transportation conundrums, says Harris, and the real challenge comes in expanding on policies that are already working. 
"New York's failure is not one of imagination, but of scale," he says. "It's not building the first one. It's going from one to 100." 
More Modes, Fewer Crowds
School safety organizations also have ideas to encourage walking. A recent report by the National Center for Safe Routes to School suggests that schools can help parents form "walking school buses" where groups of kids walk to school together with a parent.
"The fact is, cities are going to have congestion issues if parents feel they have no choice but to put their kids in the back of the car," Nancy Pullen-Seufert, director of the center, told StreetsBlog. 
Schools should consider claiming surrounding streets not just for social distancing or outdoor learning, but to disperse car drop-offs over a wider area, minimizing congestion, according to Pullen-Seufert's organization. With a few blocks surrounding schools closed, it might also encourage folks to walk who would have otherwise driven.
Staggering school start and dismissal times by grade or mode of transportation could further reduce congestion during school pick-up and drop-off times, and would allow walkers and bikers to clear the area before cars start swarming, according to a set of recommendations from Safe Routes to School Partnership. 
Sarah Cohodes, a professor of economics and education at Columbia University's Teachers College, suggested in the Atlantic that elementary schools even reduce travel by enrolling kids in the schools nearest to their homes. This could be a game-changer in cities like New York, where 40% of kindergarteners don't attend their neighborhood school. 
The PTA Constituency
For any of these ideas to succeed, community engagement and parent education must be part of the package, says Shabazz Stuart, who grew up commuting to school on public transportation and is now CEO of Oonee, which provides free bike parking. 
Urban planners can have the bad tendency to expect forgiveness rather than ask permission — something that can be particularly problematic for marginalized communities. But the pressing transportation needs posed by school re-openings offer an unprecedented opportunity for a neighborhood's own schools and families to take ownership of transportation reform, says Stuart. And parents may be far more open to suggestions if they come from a trusted source, like their principals, teachers and other parents.
Part of the reason a network of connected, safe bike lanes has been so slow-coming in many cities is a lack of vocal community demand, Stuart adds. 
Policies that support biking, for example, have become more popular in many places as a post-Covid measure, but not necessarily among parents. If PTAs in American cities suddenly demanded safe bike lanes to get to school, and lobbied for it, Stuart thinks it could happen fast. 
It's also possible that parents have different ideas about what good post-Covid school transportation looks like.  
"Do I think that New Yorkers across the city would necessarily agree that we need to remake the city for a post-Covid landscape that needs to be more inclusive of bikes and more inclusive of other transportation alternatives?" he asks rhetorically, then answers, "I don't know that all communities would agree on that."
But if they do, parents can be powerful constituencies. "We're talking about something that we ourselves have to decide on the community level that it's something we all want," he says.