Like the song says, you're going to the chapel to do you-know-what. But how's Mom getting there? Or your bridesmaids, or for that matter, your fiancé(e)? And just as important, how's everybody (wedding guests included!) getting from the ceremony to the reception… and then home? Unless you plan on beaming up to your destination, it's time to work out some wedding transportation logistics. Start with our expert guide.
When Should You Book Your Wedding Transportation?
When there are between four and six months to go, it's time to think about your transportation… aka when you've long settled on your date, ceremony and reception sites and wedding party size. If you're marrying in April, May or June—prom and graduation season—high-class vehicles will be in high demand, so you'll need to book your transportation even earlier. Pro tip: Make the final reservation in person so you can inspect the vehicles and ask which one(s) you'll be getting.
Who Should You Transport?
Your first step is to take a headcount for immediate family and VIPs. For many weddings, that means the couple, their wedding party, both sets of parents, siblings not in the wedding party and grandparents. Some couples also provide wedding transportation services for close relatives, out-of-towners or all guests. So where do you draw the line? The decision will probably come down to budget, but you should also consider the following:
Distance: If your ceremony and reception venues are only a short distance away from each other, you're in the clear. But there's a cutoff—if they're more than 30 minutes apart, you should definitely consider providing transportation for all wedding guests so you don't inconvenience them with Uber charges and long, tedious drives. Keep other distances, like the miles between your wedding venue(s) and the hotel where you've booked room blocks, in mind too.
Location: If you have lots of people coming in from out of town (who might not have cars with them) and/or have a hard-to-get-to or hard-to-find location, you should also consider booking transportation for guests.
Special needs: Think about anyone who might otherwise struggle to transport themselves and organize a travel plan for them—for example, asking your brother to pick up your 90-year-old grandma who isn't comfortable behind the wheel. 
Even if you decide not to book transportation for certain guests, you can still throw them a bone. In your invitation suite or on your wedding website, do provide information about public transportation. This can include where to catch a cab, phone numbers of (reputable!) local services, and estimates of how much each option will cost (that way, no one will have to worry whether they have enough cash on them). Another thoughtful option is providing discount codes for rental cars. (FYI: Wedding guests get up to 25 percent off the bill if they book a Budget rental car through The Knot.) 
Also, check with the hotels you've reserved rooms at to see whether they provide any sort of airport shuttle service; if they do, definitely clue in your guests, then cross another task off your list!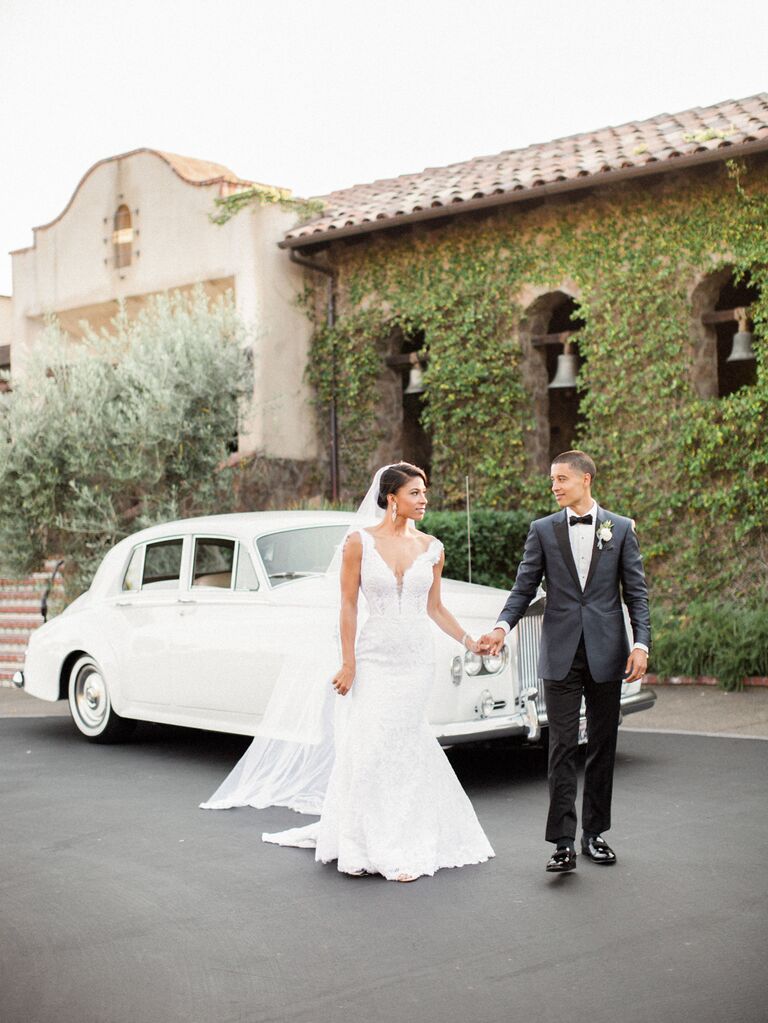 How Should Everybody Get To and Fro?
There are actually three routes to consider besides your walk down the aisle: the trip to the ceremony, the ride between the ceremony and the reception (if they're not in the same place) and the getaway. You'll need to figure out who needs transport where before you actually book anything.
Transportation for the wedding party and other VIPs:
The ride to the ceremony: Brides and grooms often travel separately to the ceremony with their respective attendants in tow, though you may opt for a ride with your parents, or to rent a trolley or shuttle for the wedding party to ride in together. The average stretch limo seats around 10 people, limos seat about 6, and most town cars hold 4, including the driver. (A full-sized coach bus, on the other hand, has room for around 50 passengers!) Try to save a seat for the photographer too: Candid, wide-angle or paparazzi-style shots are a surprising favorite.
The ride to the reception: After the vows, it's traditional to duck into a dream ride for the jaunt to the reception, either à deux or with the honor attendants. Meanwhile, your parents, wedding party, and anyone else who hitched a ride with you earlier in the day will also need a lift. If your budget allows, parents and attendants can ride to the reception in the same vehicles that brought them to the ceremony, while the couple takes a private car. The whole group (or select members) can also pile into a guest shuttle, if there is one. Otherwise, parents and attendants can ride to the reception with relatives or friends. Just make carpooling plans well in advance, and communicate with everyone involved. 
The postwedding getaway: Like every other aspect of your wedding, your getaway mobile should complement and match your sense of style as a couple (not to mention that this is how your guests will remember you and your honey—pardon the cliché—riding off into the sunset). Do you see yourself waving goodbye in a horse-drawn carriage or convertible red Mustang? Departing in a classy Rolls-Royce or rock-star stretch limo? Though the options are many, choose something that fits your budget as well as your personality. (Now's the time to test drive that dream car or even rent the boat you've always wanted for a night!) We've got plenty of other awesome wedding transportation ideas to consider too.
Transportation for wedding guests:
Do you have to provide transportation for wedding guests? No. Is it an awesome perk? Yes. If you do decide on providing transportation for wedding guests, see if your venue or hotel offers shuttle services. Alternatively, you can rent vans (which usually hold anywhere from 8 to 20 people) or go with something more festive, like a streetcar. 
It's thoughtful to accomodate guests on their way to and from the ceremony and reception. While you're not responsible for every individual guest making it home safely at the end of the night, if your guests are imbibing, it's courteous to furnish them with options. That doesn't necessarily mean booking them something; again, you can always provide a cab number or encourage everybody to download a ridesharing app.
When Should Everybody Arrive?
Next, determine your travel times before you start making calls. Figure out your itinerary by taking a test spin of the three routes to approximate driving times. To estimate an ideal pickup time for the ride to the ceremony, for example, plan to arrive 15 minutes early, then work backward: ceremony time, minus 15 minutes (or possibly even more if you're planning to get ready at the site), minus drive time, minus 10 to 20 minutes of "padding" for traffic, unexpected delays, and getting excited people into multiple cars.
If your ceremony and reception are at separate locations, don't forget about timing transportation between them either. If your exchange of vows ends at 4:30 p.m. and the reception location is only 15 minutes away but cocktail hour doesn't begin until 6 p.m., you run the risk of having guests arrive while the space is still being prepared. Timing, of course, is everything, so try to schedule everything sensibly. If that's not possible, you may need to devise a plan for how to occupy guests in the interim, or, if need be, discuss with your reception site manager the possibility of starting the cocktail hour earlier.
Who Pays for Wedding Transportation, Anyway?
If guests are left to their own devices, they're responsible for their own transportation costs, whether that involves filling their gas tank, renting a car, or taking a Lift. 
Traditionally, it's the bride's family that bears the financial burden of any organized transportation and parking, minus the expense of getting the groom and best man to the ceremony (the groom's folks traditionally pick up the tab on this one). The bride also foots the bill for getting the wedding party and family members around. Today, however, it's entirely up to you and your specific wedding budget situation. 
And How Much Does Wedding Transportation Cost?
According to The Knot 2018 Real Weddings Study, the average cost of wedding transportation is $856. That said, pricing obviously varies a ton based on when, where and what you book. Once you've established your needs, start inquiring about rates and availability in your area. Most rental companies charge by the hour and require a minimum time period: typically three hours. Calculate the duration from the pickup time to the end of the reception to determine if it's worth it for your wheels to wait. A 15–20 percent tip is usually included in the contract (sales tax may also be charged). If it's not included, a $20 tip for each driver is usually appropriate. 
Wondering how to save money on wedding transportation? There are certainly ways to shave costs off your transportation tab: 
Shop around: Call multiple car companies to compare quotes and packages.
Ask for freebies: Rental companies often throw in extras as part of a wedding package—score!
Ask for pickup and drop-off service: Your rental service may let you choose how to use your minimum number of hours. It's smart to have cars wait during the ceremony, then drop people off at the reception. The cars can return later in the evening for a pickup.
More affordable wedding transportation ideas: The most cost-effective transport, of course, is to recruit kith and kin to carpool with the out-of-towners, but sorting out how to get everyone from point A to point B may become an unruly task if there are a lot of people to pair up from multiple origin points. If it's too unwieldy to pull together a volunteer fleet and you opt to rent, do the math to see which option makes the most sense. Skip the stretch limos and go with the regular size, or even downsize to a town car if you can. Also, leave out amenities like an on-board bar, TV, and sunroof. Surprisingly, even the color of the car you choose can cut your bill. You'll pay less in general for black or silver limos than for white ones, particularly during high-wedding season.
And for the guests: Think about your attendees' wallets too! Remember, it's a super-sweet gesture to try to negotiate discounted travel rates for them if you aren't footing their transportation bill. (Psst, don't forget the awesome deal we've scored on Budget rental cars for your guests.)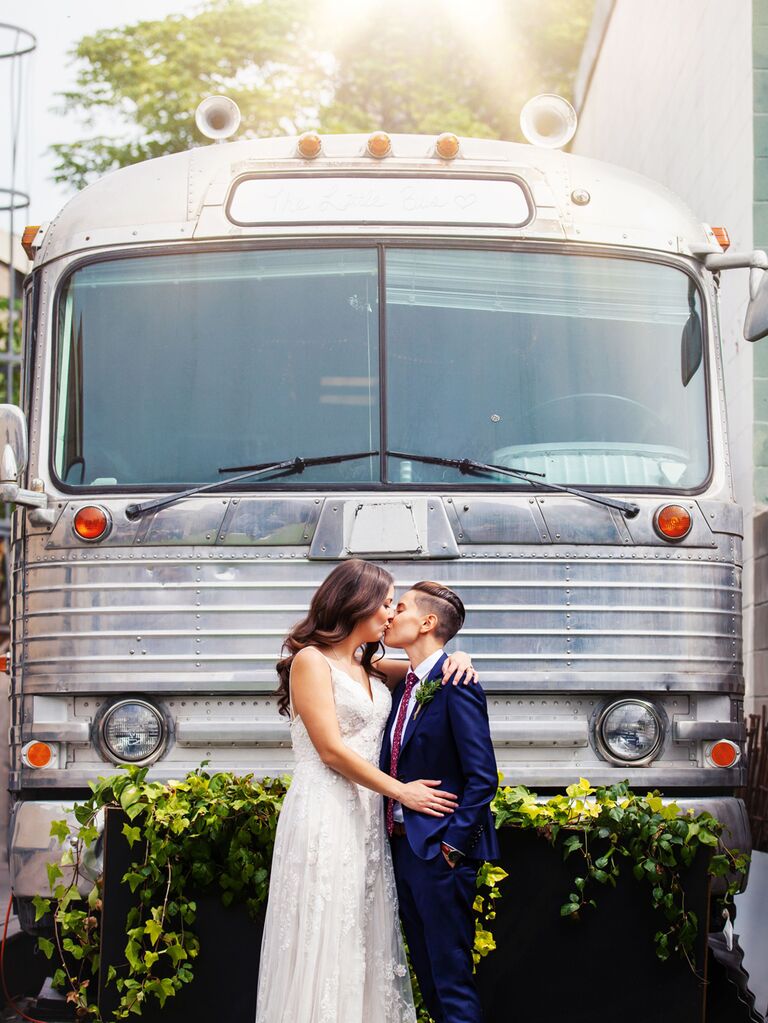 What About Parking?
Granted, some guests will be shuttling themselves around, so keep parking in mind. Talk to the reception site manager and find out what your options are, plus who handles the arrangements and staff. In the event that you may have to hire an independent service, tailor it to your needs. You can choose a full-service valet team, which will park your guests' cars and retrieve them at the end of the night, or opt for parking attendants that merely direct traffic, hold signs, and guide drivers to empty spaces. Either way, expect to pay an hourly rate per person, plus a 15-20 percent tip (usually tacked on to your total bill). Figure five valets (or 3-4 parking attendants) for every 100 guests.
Helpful hint: A massive guest list, meager to non-existent parking facilities, and a complicated location will require more help and add to the cost. Before getting a price quote, make sure the parking service manager scouts out the location to see how many attendants you'll need.
How Else Can You Prepare for the Big Day?
Create a call sheet with the names of guests and all pickup and drop-off addresses and times, and call to confirm these arrangements with the car company the day before or morning of the wedding. Drivers should have all this information in advance, including detailed directions to the ceremony and reception sites. It's also a good idea to give passengers a copy of the directions with an emergency contact number in case the driver gets lost. And we recommend choosing a transportation point person (be it your wedding planner or a close friend or family member) to oversee logistics on the day of and handle any issues.
In addition to all that, watch out for the following, then read our list of the biggest wedding transportation mistakes you can make: 
Overcrowding: Billowing skirts and nervous excitement call for more space. Don't try to fill every car to capacity—allow an extra person's worth of breathing room.
Drivers without maps: On the day of the wedding, a wedding party member should hand each driver a sheet with detailed directions, maps and contact numbers.
Vague or verbal contracts: Be sure to get all of the details in writing with your rental company. These points should be included:
date, time, and locations of pickup and drop-off points
type and number of vehicles rented
exact hours each vehicle is hired for
amenities supplied in each vehicle
total cost including gas and mileage
overtime fees and gratuities
deposit amount
cancellation and refund policies
Disclosure: This post contains affiliate links, some of which may be sponsored by paying vendors.
Updated August 2019