PHOENIX — Countless Americans are not working after layoffs, closures, and cancellations as the country battles to flatten the curve of COVID-19 cases. 
One industry where people are still working and even still hiring workers is grocery stores.
In fact, a 33-year-old man with cerebral palsy, who is legally blind and has a cognitive disability, recently started a new job at the Fry's on 40th Street in Chandler.
Travis Faust gets to and from his new job on an adult three-wheeled bicycle. When he walked outside on his lunch break Monday, he found his beloved bicycle was stolen.  Faust said his bicycle was locked up with his helmet when he started his shift.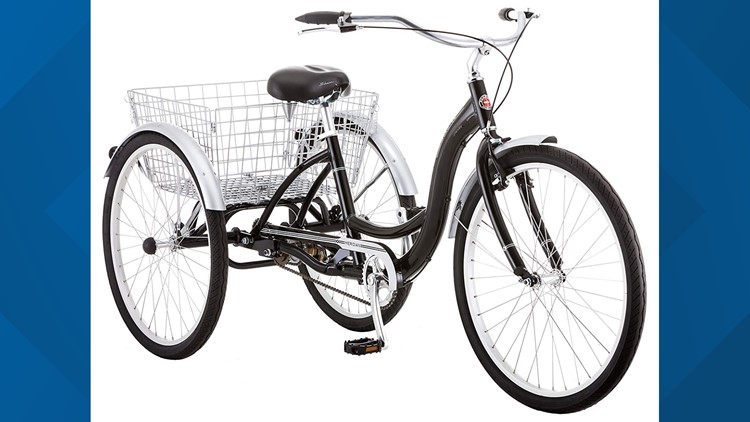 Schwinn
When he called home to tell his family about his missing bicycle, his sister, Brooke Henry, decided to post about the theft in an Ahwatukee Facebook page in hopes someone could help police recover it for her brother.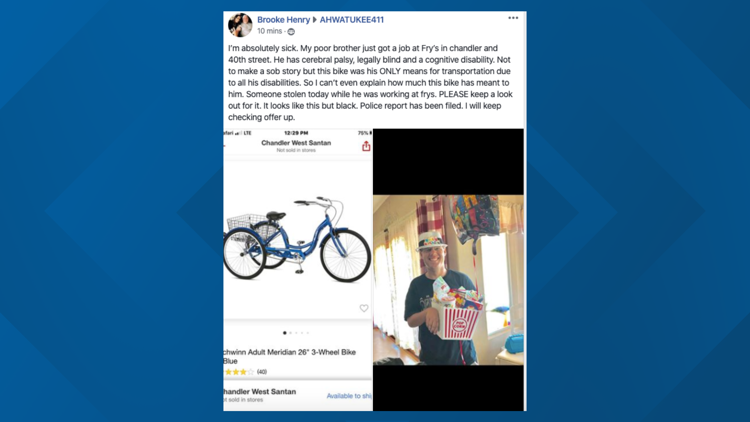 Brooke Henry
"He was really upset so I decided to get on to post asking if anyone saw his bike to watch out for it. It's his only means of transportation," said Henry. "It's gut-wrenching to think someone took this from him."
Henry said she was surprised by the response to her post. Several people asked her to create a Gofundme because they wanted to contribute towards replacing the stolen bicycle, helmet, and lock.
"The outreach from the community just made me cry. It just blows your mind that people we've never even met share such generosity," said Henry. "There are kind people still out there regardless of all the COVID 19 stuff going on. It was just amazing so we are so thankful for that."
The money was raised to replace the stolen items within hours of the Gofundme being created.
"I don't know how to stop the funds from coming but I had to tell people to stop giving. I mean it was incredible," said Henry.  
Henry said thanks to the help from the community, not only will her brother not go without his beloved bicycle but the family is also going to attach a tracking device to the new bicycle.
RELATED: 
Sharing love, not germs with Arizona's #SendTheLove
Be filled with hope with Arizona's #SendTheLove feed
Mesa sisters #SendTheLove by turning their street into a canvas
(function () { var modules; var suppressModules = document.getElementById('tegna_loadmodulesscript').getAttribute('data-suppress-modules') === 'true' ? true : false;
if (suppressModules) { modules = [ 'alert-bar', 'error', 'page', 'grid', 'desktop-header', 'toolbar', 'weather-summary', 'navigation', 'throbber', 'utils', 'tegna-utils', 'fitted-headline', 'tracking', 'progress', 'tealium', 'live-indicator', 'taboola', 'ad' ] } else { modules = [ 'error', 'page', 'grid', 'desktop-header', 'toolbar', 'weather-summary', 'navigation', 'video', 'throbber', 'utils', 'fitted-headline', 'forecast', 'article', 'continuous-scroll', 'sharing', 'gallery', 'radar-gallery', 'forecast', 'article-crosspromo', 'featured-videos', 'chapter-slider', 'pollen', 'olympics-live-stream', 'three-day-outlook', 'current-weather', 'search-results', 'tracking', 'chapter-progress', 'progress', 'countdown-clock', 'longform-explore', 'media-gallery', 'social-sharing', 'weather-alerts', 'weather-interactive-radar', 'closings', 'tealium', 'alert-bar', 'cookie', 'sticky-sharing', 'live-indicator', 'sharethrough', 'taboola', 'elections', 'just-for-you', 'just-for-you-li', 'olympics-tv-listings', 'headline-list-with-abstract', 'text-only-headline-list', 'story-snapshot-with-abstract', 'snapshot', 'story-snapshot', 'special-content-headline-list', 'notfound', 'linked-image', 'article-recirculation', 'linked-image-with-title', 'newsletter-signup', 'linked-image-with-title', 'newsletter-signup-multiple', 'live-videos', 'breaking-news', 'weather-alerts', 'closings', 'media-gallery-alt', 'alert-center-menu', 'trending-list', 'toc', 'featured-radars', 'searchbox', 'hot-races', 'recirculation', 'photo', 'video-youtube', 'newsletter', 'universal-ad' ];
if ('true' === 'true') { modules.push('toasts'); modules.push('notifications'); } } /* var modules = [ 'error', 'desktop-header', 'navigation', 'page', 'grid', 'toolbar', 'video', 'throbber', 'utils', 'tegna-utils', 'continuous-scroll', 'gallery', 'tracking', 'tealium', 'sharethrough', 'datasphere', 'iframe', 'photo', 'video-youtube', 'newsletter-signup', 'newsletter-signup-multiple', 'ad' ]
function inArray(needle, haystack) { var count = haystack.length; for (var i = 0; i < count; i++) { if (haystack[i] === needle) { return true; } } return false; } var moduleElements = document.querySelectorAll('[data-module]'); for (var i = 0; i < moduleElements.length; ++i) { (function () { var thisModuleName = moduleElements[i].getAttribute('data-module'); if (!inArray(thisModuleName, modules)) { modules.push(thisModuleName); } })(); } console.log('===== loading modules: ', modules); */ require.config({ 'baseUrl': "https://r.search.aol.com/", 'deps': modules, 'waitSeconds': 30, 'bundles': { 'modules': modules }, 'paths': { 'jquery': 'scripts/jquery-3.1.1.min', 'jwplayer': 'content/player/jwplayer.js?version=3.22.12', 'modules': 'Views/dist/scripts/modules.min.js?version=3.22.12', 'facebook': 'https://connect.facebook.net/en_US/all', 'twitter': 'https://platform.twitter.com/widgets', 'slick': 'content/libs/slick/slick.min', 'dotdotdot': 'content/libs/dotdotdot/jquery.dotdotdot.min', 'jqueryui': 'Views/lib/jquery-ui/jquery-ui.min', 'comscore': 'content/libs/comscore/comscore.min', 'stickyfill': 'content/libs/stickyfill/stickyfill.min', 'youtube': 'https://www.youtube.com/iframe_api?noext', '@firebase/app': 'https://www.gstatic.com/firebasejs/6.1.1/firebase-app', '@firebase/messaging': 'https://www.gstatic.com/firebasejs/6.1.1/firebase-messaging' }, 'shim': { 'facebook': { 'exports': 'FB' }, 'twitter': { 'exports': 'twttr' }, 'youtube': { 'exports': 'YT' }, 'jwplayer': ['jquery'], 'jqueryui': { 'deps': ['jquery'] }, 'slick': ['jquery'], 'dotdotdot': ['jquery'] } }); })();